Vipshop 8.8 is coming soon! From 8pm on August 8th to 10am on August 10th, Vipshop will launch a 38-hour low-cost shopping event, covering beauty, home appliances, and home textiles. There are tens of thousands of cutting-edge goods in multiple categories such as, Jiaqing, snacks and beverages, and there are more surprise offers such as discounts on many orders and the distribution of large red envelopes.

It's worth mentioning that during the 8.8 rush season, the popular actress Charmaine Sheh will appear in the official vibrato live broadcast room of Vipshop to give out heavy benefits; 6 live broadcast masters and 10 major brands will also join the battle. Audio Broadcasting and users will share the hottest items with the bottom price!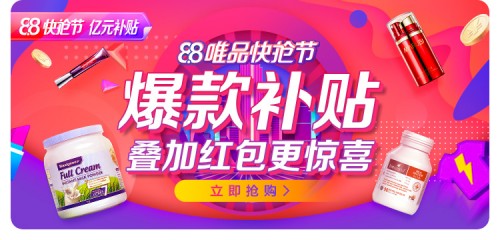 38 hours limited time and low price, 8.8 is fast and super cost-effective

It will be collected first at 8pm on August 7th and will be officially opened at 8pm on August 8th. As the annual hot-selling carnival of Vipshop, the 8.8 Quick Grab Festival gathers popular beauty products, home appliances, home textiles, home cleaning, and snacks on the whole network to meet the quality needs of all aspects of life. Brand head products including SK-II, L'Oreal, Estee Lauder, Olay, Laneige, Jierou, Blue Moon, Philips, Joyoung, Three Squirrels, etc. will all be added to this shopping spree.

Not only does it gather good products from all major brands across the site, Vipshop will also receive a subsidy of RMB 8.8 billion for the 8.8 quick win, and the surprise price is discounted. At present, tens of thousands of styles must "hoard" good home products, must "grab" premium beauty makeup, and must "taste" the Internet celebrity explosion models are ready to go: 28g Keyan's Avocado Eye Cream is only 275 yuan; Anresha Xiao The gold bottle sunscreen is as low as 152 yuan; the double bottle of Bedma makeup remover is only 119 yuan; the Dove 2480g shower gel set can be taken away; the 12 kg blue moon full box is as low as 59 yuan; the 72-pack Vinda handkerchief is only It costs 27 yuan; 34 yuan to enjoy the three squirrel hot and spicy snacks gift package...... 38 hours of limited-time price reduction, hot and delicious authentic products with one click.

Empress Charmaine Sheh "price" arrives, surprise welfare to help broadcast 8.8 to grab the festival

In addition to providing good products, there are also popular celebrities coming to help broadcast! At 8 pm on August 9, Charmaine Sheh will appear in the official vibrato live broadcast room of Vipshop on time to share the list of exclusive hot products. In addition, during the 8.8 rush festival, 6 masters including Teacher Xiaoxiaosha, Citron Sauce, and Fairy Yeast will live on their Douyin accounts to share a variety of skin care and life goodies; Li Ning, Anta, Joyoung, Delma, Kazilan The top ten brands are also taking turns to share the best value-for-money products through the official vibrato live broadcast room of Vipshop.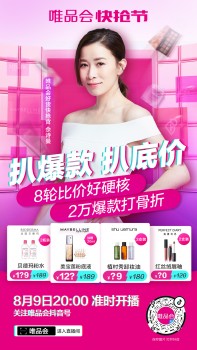 It is worth mentioning that the hot money in the "Niang Niang" live broadcast room is to buy the reserve price. For example, the daily price of Lange Sleeping Mask is 212 yuan, the live price is only 178 yuan; the daily price of Fuli Fangsi facial cleanser is 109 yuan, the live price is only 99 yuan; the daily price of 99 yuan of natural hall makeup powder, the live price is only 79 yuan; in addition, the perfect diary The velvet lip glaze is only 70 yuan, and Maybelline's large-capacity makeup foundation is only 129 yuan.

Surprisingly, in addition to sharing good things, the live studio also prepared multiple surprises such as Tiffany necklace, Dior lipstick set, Perfect Diary King eye shadow set, 200 yuan face value Vipshop card, and live red envelope delivery!

Vipshop will focus on brand special sales for 12 years, and create super-value special sales surprises for users with deep discounts of big-name products. Through multiple safeguard measures such as official brand authorization and strict quality control procedures, 100% authenticity is guaranteed. 8.8 During the fast-grabbing season, users can enjoy SF's free shipping service after placing an order of 88 yuan or more, and users who purchase at Vipshop for the first time can get free shipping after spending more than 38 yuan. At the same time, Vipshop will support 7-day unreasonable return and free door-to-door collection, so that users can buy the real favorite products with high cost performance.

This summer, from August 8th to 10th, Vipshop will work with you to pick up the hottest items, pick up the reserve price, and have fun and grab the festival!

Natural Rubber Carpet Underlay,Foam Carpet Underlay,Pvc Door Mat,Can Cut Carpet Underlay

Anyang Qunxiu Plastics co.,ltd , https://www.qunxu.com